Today, 33% of the UK's CO2 emissions come from the construction industry. This is the uncomfortable truth that the sector needs to tackle. The government has already announced new building regulations, which require new builds to cut their carbon emissions by 30%. The changes will come into force in June 2022. Add to this that most organisations are or have set themselves stretch sustainability targets in their strategic visions and plans.
Therefore, as construction companies are adopting sustainable practices now, for the sake of the planet and their own survival as a business, waste minimisation and elimination are vital factors in this fight towards sustainability.
What is waste minimisation & elimination?
In the strictly physical sense, waste needs to be managed and disposed of in an environmentally-friendly manner. It requires that any waste is stored, transported and disposed of without causing unnecessary pollution to the atmosphere. However, in the construction industry, waste also means wasted time, wasted effort and wasted resources. All contribute towards a construction business' carbon footprint.
The most effective form of waste reduction is being proactive. By anticipating and minimising waste at every stage of the construction project delivery and your supply chain, you significantly reduce your carbon footprint. At BBI, we help businesses to undergo an end-to-end process optimisation. This helps businesses to identify potential waste areas, and develop countermeasures and improve productivity, quality right first time, logistics movements, manufacturing process waste, site build operations and streamline all supporting processes therefore significantly reducing the environmental or financial damage.
How does waste minimisation & elimination affect sustainability?
It's not just solid waste that affects the environment. Wasted resources increase your business' carbon footprint. Even wasted site time drives up unnecessary electricity usage. In all forms, waste increases carbon emissions and reduces air quality. Only by reducing waste across the board can construction businesses hope to meet the government's new strict building regulations and this covers Productivity, Quality, organisation processes, supply chain manufacturing, logistics etc.
At BBI, one element of this is getting Quality Right First Time and we aim to provide construction businesses with new skills in quality management. Our expert specialists will work with you to enhance a high-performance Right First Time culture in your workplace. The aim is to put processes in place that drive quality and reduce the need for dangerous reworks. With fewer reworks, comes less wasted energy, comes less carbon emissions.
How can waste management be more sustainable?
Within improving your organisation's productivity, creating standardised ways of working is a key method that the UK construction industry can adopt to support and achieve quality and sustainability. BBI assist businesses in implementing clear and optimised manufacturing systems, helping to:
Optimise machinery and plant set-up times
Prevent equipment failure
Increase productivity
Deploy standardised ways of working that shape a Right First Time approach
Focusing on productivity will heavily contribute towards lowering your business' carbon footprint. By streamlining your processes, you can minimise your site time, minimise material movements and unnecessary activities.
BBI can also help you to optimise your relationships and handover processes across the supply chain. This means optimised time-sequenced deliveries, executed correctly the first time around. This will result in fewer carbon emissions from delivery transportation.
As we move towards MMC and offsite, the kit of parts approach will reduce waste if done effectively.
In terms of physical waste, construction businesses can also facilitate for better recycling systems on-site. Furthermore, companies should aim to be innovative with their product designs. By designing products with reusability in mind, the construction industry can make significant strides towards carbon net zero.
Improving waste management across your construction business
We strongly encourage you to look at how your team is currently operating. How much of their daily activity is actively adding value to your company? Are there any common obstacles that are negatively impacting their productivity? In any business, it's easy for wasteful ways of working to become routine, simply because "that's the way it's always been done".
A key stage is to map out current processes, deploy a 'waste walk', similar to a safety walk, our specialists walk the process onsite, in the office or at your manufacturing operation working with your team to spot areas of waste. Perhaps resources are being stored incorrectly, or materials are being moved too frequently.
Our aim is to create a workplace culture where staff feel empowered to constructively challenge the ways of working. Implementing such a culture is one of the most crucial steps the UK construction industry can take towards achieving a waste-free, carbon-neutral future.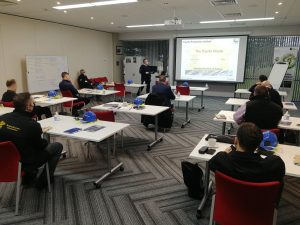 Waste reduction for the UK construction industry
BBI Services' team of industry experts will work with your construction or manufacturing business to reduce waste, improve productivity and accelerate quality. We harness the power of People, Performance and Processes to deliver sustainable results. For more information, please contact us online or call 01608 664589.